Friday, 15 April 2016 8:30 to Sunday, 26 June 2016 16:00
"Materiale Immateriale" is the exhibition that concludes the VVV – Verbo Visuale Virtuale project funded by CaRiTRo. The aim of the project was the creation of an online digital archive of verbo-visual artworks from the Mart Museum in Trento and the Museion in Bozen. This digital archive (http://www.verbovisualevirtuale.org/) will be presented in the context of the opening ceremony on April 15th, 2016.
Location:
MART museum, Rovereto
Programme
Press Conference – 15/04/2016 10:30 a.m.
Gianfranco Maraniello, Director of MART

Filippo Manfredi, Director of Fondazione Cassa di Risparmio di Trento e

Rovereto

Sara Tonelli, Head of the "Digital Humanities" research group at Fondazione Bruno Kessler

Elena Bini, Manager of MUSEION Collections – Archive

Nicoletta Boschiero, Manager of MART Collections

Cecilia Scatturin and Valentina Russo, Researchers of the VVV project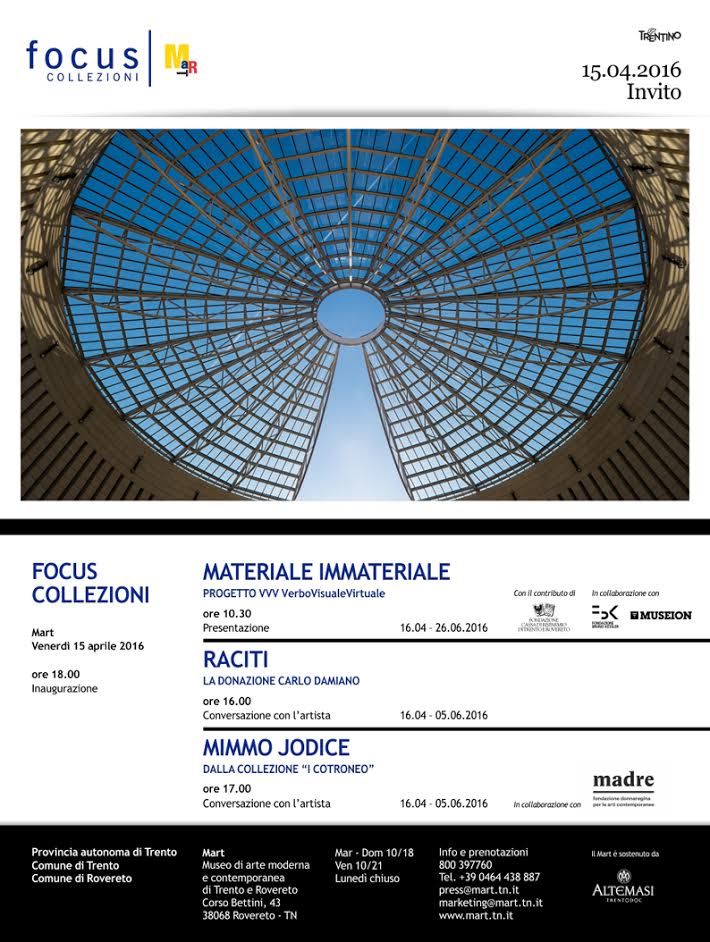 Documents:
Website:
More on this event: